Former head teacher Jane Vaterlaws struck off for bullying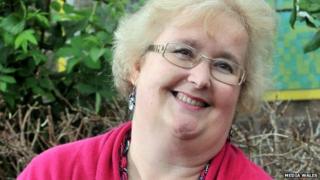 A former Cardiff head teacher who bullied staff and threatened parents has been struck off.
Jane Vaterlaws worked at St Alban's Roman Catholic Primary for nine years until 2012.
The General Teaching Council for Wales professional conduct committee hearing found 15 allegations proven.
Among them, she asked a struggling pupil to stay at home on inspection days and gave details of two children's progress to a convicted prisoner.
Mrs Vaterlaws, who had denied the claims, was not at the hearing in Cardiff.
The tribunal heard the school was in special measures by the time Mrs Vaterlaws left in September 2012, citing severe depression.
The panel found the allegations amounted to unacceptable professional conduct, as well as serious professional incompetence.
They included falsely accusing a six-year-old of drawing a sexually explicit picture before threatening to go to social services.
The child's mother was summoned to the school, the panel was told, and was "frightened and terrified" by the threat which was made despite Mrs Vaterlaws not investigating the matter properly.
It later turned out the girl had not drawn the picture.
'Flagrant breach'
The panel also heard of the breach of confidentiality involving two young children whose father was in prison for a "very serious offence".
Despite the school being made aware of the situation and a court order in place, Mrs Vaterlaws updated the man on the youngsters' progress when he rang from prison.
Case presenter Rosa Fernandez said: "This was a flagrant breach of confidentiality."
The panel was also told of an incident with another child in the head teacher's first year in charge when she told a parent that she thought it "would help the school" if their son stayed at home when the inspectors arrived because he was "not the best behaved".
Ms Fernandez said: "Head teachers are held in a key position of responsibility. They should act as role models to pupils, parents and the wider community.
'Orchestrated campaign'
"Mrs Vaterlaws' behaviour was unacceptable and amounted to serious professional incompetence and misconduct.
"Her failures were many and varied but all of them deeply concerning and taking place over a number of years.
"Her actions comprising of bullying, harassment, threatening behaviour and failing to follow proper procedures fell well short of the standards expected of a registered teacher."
She added: "Mrs Vaterlaws said in correspondence she was forced out because of an orchestrated campaign against her. But this was far from the case."
Mrs Vaterlaws 'decision to stay away from the hearing, but insist she was innocent via a letter, demonstrated her "poor insight" into her actions, Ms Fernandez added.
The GTCW panel imposed an "indefinite" prohibition order removing her from the teaching register, meaning Mrs Vaterlaws will have to wait five years before she can apply to be reinstated.