Cardiff hospital A&E influx prompts patient warning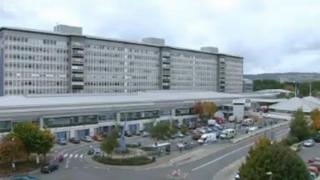 Patients with non-urgent illnesses are urged to stay away from A&E at the University Hospital of Wales in Cardiff due to an "unprecendented" influx.
Cardiff and Vale University Health Board said there had been a big increase in patients needing acute care in the past 48 hours.
It is asking those with minor injuries to reduce the pressure on staff so they could focus on the sickest patients.
People have been urged to contact NHS Direct or see their GP instead.
The health board's medical director, Dr Graham Shortland, said staff had been coping well with the usual surge of patients over the winter months, but there had been a significant rise in the number of very poorly patients since Saturday.
He said the most vulnerable patients were being seen promptly and there were no significant ambulance delays.
Dr Shortland advised anyone with minor illnesses or injuries that could be easily dealt with at home to stay away and take advice from NHS Direct, community pharmacists and GPs.
"Patients who do come to the emergency unit with these minor conditions can expect significant waits for treatment, because we are mobilising our resources and focusing our energies on those patients with the greatest clinical need," he said.
"This is not a new message, and we ask people throughout the year to make sensible use of the emergency unit, but this is even more important when we have so many seriously ill patients at this time of year who need our care the most."