Sochi 2014: Wales' Lloyd Jones figure skates for France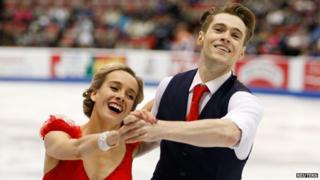 He may be competing on the ice for France, but champion figure skater Lloyd Jones is still a "proud Welshman," according to his family.
The 25-year-old, from Cardiff, is one of only three athletes from Wales at Sochi.
But the need for international standard training - and a partner in the ice - means he is skating for France rather than Team GB, Jones's parents say.
Dawn Jones said: "It's all he has ever wanted to do."
Jones first went on the ice, at Cardiff's former rink, aged five.
'Sacrificed a lot'
That early interest led to years of taking the youngster to training, often before lessons at Whitchurch High School, and then ferrying him up and down motorways to competitions.
His mother explained: "I said 'if you ever complain about getting up early, we wouldn't go on', but he never did."
His father Kevin Jones added: "He sacrificed a lot. When his friends were having sleepovers he wouldn't go because he had training the next morning.
"If he went to a party he would come home early because he had to get up in the morning for training."
But the dedication on the rink and in the gym paid off.
Waving goodbye
The athletic youngster - he boxed for a while and learnt jujitsu - was twice British junior ice dance champion and a junior member of Team GB.
Leaving school at 16, he worked part-time while continuing training in London.
But when his figure skating partner gave up the sport competitively, Jones, then 18, had to look overseas to find a replacement.
His parents explained Lloyd was invited to America in the search for a suitable partner, but eventually moved to France where the sport has a larger following than in the UK, with funding to match, they said.
It meant Lloyd waving goodbye to Wales and relinquishing his prospects of competing for Team GB.
Mr Jones said: "Once he had trained at the top centres abroad, he knew he could not come back."
Opening ceremony
Since moving to France and linking up with dance partner Pernille Carron, Jones has gone from strength to strength.
First based as Paris, then Lyon and now Milan and Detroit, Michigan, he speaks fluent French and has become a French citizen.
He will be in the France squad at the opening ceremony of the Winter Olympics in Sochi.
His family will be in Sochi next week in a tour organised for French athletes' families.
The ice dancing pair are hoping for a top 10 finish in these games with a view to a possible medal at the next winter Olympics, according to Mr Jones.
He said of his son: "He's a perfectionist. His talent was noticed when he was quite young. He always knows there's room for improvement.
"He may be competing for France but he's a proud Welshman."
Also competing at Sochi will be Bruce Tasker, from Manorbier in Pembrokeshire, and former Cardiff Met student Ben Simons from Shropshire who will be in the Team GB bobsleigh teams.