One Direction's Niall Horan in Twitter spat with Mike Phillips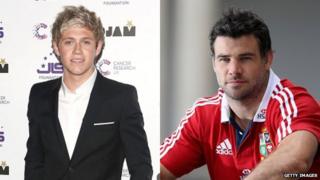 Wales scrum-half Mike Phillips has challenged One Direction's Niall Horan to train with the Welsh squad after the singer criticised him on Twitter.
Phillips was in a scuffle during Saturday's match against Ireland, which Wales lost 26-3, prompting the Irish singer to tweet that the player looked an "arrogant idiot".
The rugby star replied: "Come down to training in the week big boy. And bring the rest of the Beatles with you."
Horan declined the offer.
The One Direction star had been following his national side during the game in Dublin, tweeting: "C'mon Ireland! Wohooo! Fantastic first half hour".
But following the altercation between Phillips and some of the Ireland team, he added: "Mike Philips is like a child throwing his toys out of the pram! his attitude is terrible, looks like a right arrogant idiot".
The comment was re-tweeted 41,676 times.
Phillips made his reply the following day then followed up with a picture of himself and Irish player Rob Kearney - who was also involved in the scuffle - in a friendly pose, congratulating Kearney on his side's win.
Kearney joined in with a tweet to Horan telling him: "Don't worry - I've got your back."
The spat continued with Horan refusing Phillips's challenge saying he would "only go and watch good teams anyway, so no thanks".
Phillips replied with a picture of himself, asking: "Fair play to you but imagine how big you would be if you looked like this ! @NiallOfficial #£££ #banter".