Fatal crash mother-to-be 'two weeks from giving birth'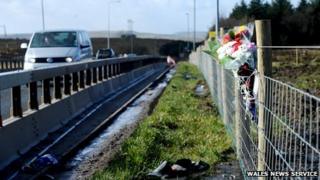 A pregnant woman who died after a crash on the A465 Heads of the Valleys road on Friday night was due to give birth in two weeks, said her fiance.
Sophie Williams, 20, of Tredegar, Blaenau Gwent, and Ben Morgan were returning from eating out when the collision happened.
Ms Williams and the couple's unborn baby died after the two-car crash.
Mr Morgan said the couple had been told they were to have a girl, and they had already named her Kayleigh.
Front seat passenger Ms Williams died at Nevill Hall Hospital in Abergavenny following the collision between Brynmawr and Garnlydan, Blaenau Gwent.
Mr Morgan said the couple were engaged and planning to marry after the birth, due at the beginning of March.
He said: "I can't take it in - we were so happy and looking forward to our baby arriving in a couple of weeks.
"Everything I love has gone in a just a few moments."
The crash happened at roadworks at about 23:00 GMT on Friday.
Both Mr Morgan and the other driver, from Basingstoke, Hampshire, were uninjured but were said to have suffered shock.
Lay flowers
Mr Morgan, from Tredegar, added: "We had been out for a meal - we didn't have far to travel home.
"I am still unable to take in what has happened."
Mr Morgan has returned to the scene of the crash to lay flowers.
Ms Williams's family were said to be too upset to comment.
A family spokeswoman said: "We are just too cut up for words - we have lost Sophie and her unborn baby - it's too much to bear."
Anyone with information about the crash is asked to call police on 101, quoting log 544 14/02/14.