Raft death Cerys Potter, 9, was unlawfully killed, inquest rules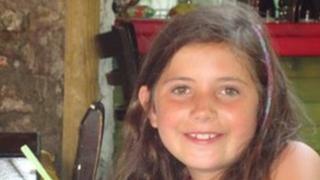 A nine-year-old girl who drowned after being flung from into a river while white-water rafting on holiday was unlawfully killed, a coroner has ruled.
Cerys Potter, from Llancarfan, Vale of Glamorgan, died in 2010 in rapids on the Dalaman river in Turkey.
Coroner Christopher Woolley said gross negligence manslaughter had contributed to her death.
Four men have been jailed for more than five years over the fatal incident.
Cerys was sitting at the back of the inflatable raft with 13 people on board, Cardiff Coroner's Court heard.
The raft struck a rock and then overturned, the inquest was told, throwing everyone on board into the rough and fast-flowing water.
Fighting for justice
The party was reassured Cerys was safe, but she could not be seen.
The inquest heard a search was not launched by the organisers for more than 40 minutes and Cerys's body was found two hours later.
A passenger on the raft had said he believed the boat was overcrowded, that it had too many children on board, and there were inadequate safety procedures.
The inquest heard those onboard had only received a few minutes of safety briefings and were reassured by organisers the trip was safe for someone as young as Cerys.
Rafting safety expert Paul O'Sullivan told the inquest the Turkish company, which organised the rafting excursion did not seem fit for purpose.
'Shambolic'
He said children as young as nine should not have been allowed on the trip.
Outside the hearing, Cerys's father Terry Potter said the family now had time to grieve after spending the past three years fighting for justice.
He welcomed the inquest conclusion.
"It was an accident waiting to happen, in fact it wasn't an accident at all," he said.
"I discovered that eight previous incidents had happened on the river in very similar circumstances and eight people had been killed.
"I then discovered just how shambolic the whole organisation of the river rafting was - the scant regard to safety.
"They just wanted to sell trips to children when it was too dangerous for them to be on that river."
Mr Potter added: "Keep your kids off that river because they might not come back."