Missing dog Rocco reunited with owners in Cardiff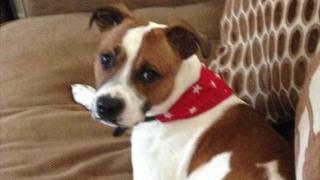 A dog snatched while being walked in a Cardiff park has been found and reunited with his owner.
Shelley, who refused to give her surname for fear of reprisals from the thief, was in Pontcanna Fields when 13-month-old Rocco was taken on 1 March.
A Facebook page set up to help find the Staffordshire Bull Terrier cross attracted tens of thousands of hits.
Shelley said Rocco was found "in good nick" and thought the thief may have dumped him because of the publicity.
South Wales Police confirmed on Wednesday that they were still investigating the incident on Pontcanna Fields as theft.
Shelley said she had been "devastated" to lose Rocco, who ran off towards Western Avenue following a man in his 30s who picked up the dog's ball and began throwing it.
But she told BBC Wales on Wednesday that the family was "delighted" Rocco was back home after being missing for more than a week.
She said: "I had a phone call from the Cardiff dogs' home who said he had been handed in. I shot straight up there and it was him.
"He's been on the streets for a few days but people have been feeding him.
"He's lost some weight and he has sore paws from walking the streets but he's in good nick.
"I believe he'd been kept for a number of days but after the huge amount of publicity he's been dumped - maybe he was on the other side of the river and couldn't get back."
Shelley added that it was a nice surprise for her son to come home and see Rocco, who was now enjoying some treats.
"He's had his favourite food - sardines and a sleep in my bed," she said.
"He'll just be cuddled and adored for the rest of the day."