Gwent Police re-opens seven stations closed in 2012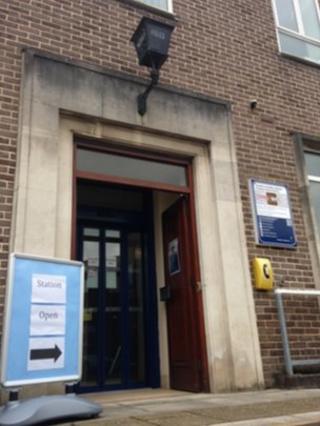 The re-opening of seven Gwent police stations is aimed at providing the best service possible to the public, the local police and crime commissioner (PCC) said.
The stations are now open to the public five days a week from 9am to 5pm, with two other bases extending their hours.
PCC Ian Johnston said public access to police stations had been "high on the agenda" for many communities.
He urged people to make "effective use" of the re-opened stations.
The force said it was re-opening stations in Caerphilly, Chepstow, Maindee, Monmouth, Pontypool, Risca and Ystrad Mynach.
Front desks at the seven stations were among 17 closed to the public in 2012 with the loss of 19 jobs, aimed at saving £500,000 towards £34m in budget savings by 2015.
Abertillery police station will now be open to the public on Thursday and Friday from 09:00 to 17:00, with Brynmawr open Monday to Wednesday from 09:00 to 17:00. Both were previously open for a few hours a week.
Public demand
Funding for the re-opening of the stations, decided in January, comes from within the force's existing budget.
Gwent Police said it was recruiting officers to staff the new front counter services which will will be assessed and reviewed after 12 months.
Mr Johnston said: "The closure of police stations and accessibility to them has been high on the agenda for many of our communities.
"The announcement today complements some of the priorities outlined in my Police and Crime Plan with regards to delivering the best quality of service available for the people of Gwent, reducing and preventing crime and protecting people from serious harm.
He added: "We are providing the service but it's now up to members of the public to make effective use of these stations."
Chief Constable Jeff Farrar said: "We will be maintaining our existing five front counters which have remained operational over the last couple of years, meaning that the public will be able to call in at a total of 14 police stations in Gwent."
"We will be evaluating the success of this over the coming year to ensure we are making the best use of resources.
"Our wider face-to-face engagement work with the public will continue to be complemented by regular and pre-advertised police surgeries at other police stations across the force, as well as in partner and public facilities, and using our five mobile police stations."