Common land agreed for Circuit of Wales in Ebbw Vale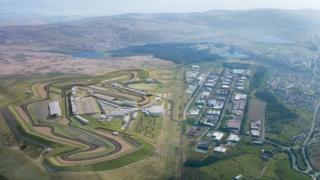 Up to 491 acres of council-owned land has been approved for public use to allow a £280m racing circuit to go ahead in Blaenau Gwent.
The Heads of the Valleys Development Company must replace common land taken up by the construction of the planned Circuit of Wales in Ebbw Vale.
Blaenau Gwent council has agreed in principle to supply replacement land.
A Welsh government planning inspector will decide if the common land can be used for the venture.
The proposed race track would be built on 830 acres (335 hectares) of land next to the Rassau industrial estate and developers say it will create thousands of jobs and attract 750,000 visitors a year.
But part of the area is common land, which must be replaced if the scheme goes ahead.
Blaenau Gwent council will allow six parcels of its own land to be put forward as replacement common.
They include land at:
Green Meadow Farm, Cwmtillery
Bryn Farm, Brynmawr
Sirhowy Woodlands, Tredegar
land surrounding Waun-Y-Pound Industrial Estate and Cardiff Pond, Ebbw Vale
Garden City Woodlands
Land near Crown Business Park, Tredegar
Opposition
A report to councillors said the authority would retain ownership of the land, but would need permission if it wanted to use it for other purposes use in future.
"The council therefore needs to a take a balanced view of whether the risk of losing the Circuit of Wales scheme to the area is greater than the registration of areas of land as common, which already have a degree of statutory environmental protection," the report said.
Councillors agreed the move in principle, but the decision must be approved by the council's executive committee.
The racetrack was granted planning permission in July 2013.
Some groups have campaigned against the development and last month it emerged Silverstone racetrack bosses had asked Prime Minister David Cameron to prevent state aid being used to fund it.
The Circuit of Wales would host all motor racing events except Formula 1.