Stagecoach to cut 14 services after depot closure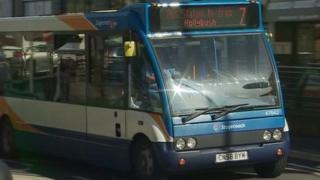 The biggest bus operator in Wales has announced it will axe 14 services and reduce the frequency of eight others.
Stagecoach said services in Blaenau Gwent and Monmouthshire would feel the full impact, while Torfaen, Caerphilly, and Rhondda Cynon Taf will also be hit.
It recently said it was closing one of its depots, putting 77 jobs at risk, following a "body blow" of Welsh government cuts.
Last year, the government reduced bus service support by 25%.
Stagecoach said the move left it with "no option" but to close the depot in Brynmawr.
The firm has been in discussions with representatives from local authorities in the affected areas and consulting with unions over the planned closure of the depot from July.
John Gould, managing director of Stagecoach in south Wales, said: "Make no mistake, ultimate responsibility for the loss of bus services and jobs lies firmly at the door of the Welsh government following years of cuts to bus investment.
"We deeply regret the impact this will have on our customers and local communities. Instead of protecting and supporting bus travel, ministers' misguided decisions have dealt a body blow to the country's public transport network and wider economy.
"People across Wales have repeatedly warned the government about the consequences of their actions, but sadly they have refused to listen."
A spokesman for the Welsh government called it "extremely disappointing news" but it was working with the Confederation of Passenger Transport to deliver a sustainable bus industry.
"The new reimbursement rate for operators in the concessionary bus fare scheme was set following an independent review to ensure operators such as Stagecoach were 'no better and no worse off' by taking part," he said.
Monmouthshire council said it would be working with bus operators and Newport council to provide arrangements.
Services axed include:
X16 Risca to Cardiff
X32 Maerdy to Cardiff
X78 Merthyr to Pontypridd
244 Pontypridd to Bridgend
411 Tynewydd to St John's High
7 Blackwood - Ystrad Mynach - Pontypridd
C16 Caerphilly to Nelson
C17 Bargoed to Caerphilly
538 Blackwood to Penybryn
30 Brynmawr to Cwmbran
64 Newport to Underwood
74 Newport to Chepstow
X74 Newport to Chepstow
60 Newport to Usk