Cwmbran vegetable grower's security against saboteurs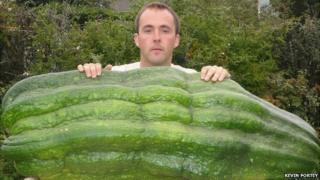 A giant vegetable grower in Cwmbran, Torfaen is using a hi-tech security system to protect his prize entries from saboteurs.
Kevin Fortey has installed an infrared alarm in his greenhouse to safeguard his giant carrots, swedes, leeks, beetroot and runner beans.
In scenes reminiscent of Wallace and Gromit in The Curse of the Were-Rabbit, he said others were following suit.
He now plans to install CCTV to increase security.
The number of giant vegetable growers in the UK has quadrupled in the last few years, with 57 entering last year's championships.
Mr Fortey, who runs a website dedicated to his hobby, said some greenhouses had been sabotaged in the past.
He joked that he got the idea to protect his giant produce from the Curse of the Were-Rabbit animation, where the Wallace and Gromit characters set up an alarm system to keep a giant rabbit at bay.
So far, Mr Fortey said, he has had few problems.
'Wow' factor
"But there have been cases where other growers in the UK have had their poly-tunnels slashed, while other people have had their prize leeks pulled up," he said.
"The security system is a safeguard, not just against rival growers, but anyone set on damaging my vegetables."
Mr Fortey said fellow grower Ian Neale, from Newport, had also installed a security system. Mr Neale hit the headlines when he won praise from US rap star Snoop Dogg for growing the world's largest swede.
Mr Fortey and his brother Gareth nurtured a 12st 3lbs (77.5kg) marrow in 2010 which they claim is the largest ever grown in Britain.
When they had no room left in their garden to grow their huge veg they took an allotment nearby.
"We grew giant cabbages on the allotment last year and one weighed 31 kilos which we exhibited at Aberglasney gardens (in Carmarthenshire) and we won first prize for the heaviest cabbage," he added.
"We've also grown a 100lbs (45kg) swede."
"I think the public are fascinated by giant vegetable growing - it's got the wow factor," Mr Fortey said.
"It's always been seen as a secret hobby but as there's more exposure in the media that is changing and more people are taking it up. There are tips on the internet to help people interested in taking it up."
Last year, the BBC documentary Allotment Wars explored the conflicts seething amid Britain's gardens.