Cwmbran named as dumped shopping trolley blackspot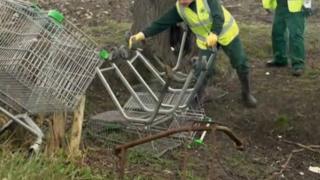 Thousands of supermarket trolleys abandoned in a south Wales town have made it one of UK's blackspots for the problem.
More than 3,500 were reportedly collected in Cwmbran, Torfaen, in March by Trolleywise, a UK-wide recovery service based in nearby Newport.
The layout of the town means shoppers can easily wheel their shopping home.
And the trolleys from several major stores, all within a mile of each other, are often just dumped.
A spokeswoman for Trolleywise confirmed that Cwmbran was one of the worst areas of the UK for abandoned trolleys.
And local resident and Cwmbran blogger Ben Black said the issue had been long been a problem in the town.
Residents' complaints
"It's a quirk of Cwmbran - you've got a one way system around a central shopping area with estates on the other side of the road," he said.
"People just walk out of the shops with their trolleys, cross the road and just leave them on paths or grassy areas of the estate when they get home."
Bron Afon, which runs social housing in the borough of Torfaen, said: "It's a nuisance - we get a lot of calls from residents about it.
"Some supermarkets - the ones signed up to Trolleywise - are really good at collecting abandoned trolleys but others less so and we have to recover them ourselves."
The South Wales Argus reported that Trolleywise recovered 3,570 trolleys in Cwmbran in March, more than two thirds of them belonging to Asda, which has a major store at the northern edge of the Cwmbran Shopping Centre complex.
But Cwmbran is not alone in the dumped trolley problem with other Welsh towns and cities reporting a growing issue.
Cardiff council said last year it had seen an increase in the problem with "several hundred" trolleys being abandoned every year, claiming the 5p charge for carrier bags was a major cause of the dumping.
The authority said it would seize abandoned trolleys and sell them on after six weeks, charging the stores involved for the cost of recovery.
Wrexham and Carmarthenshire have previously introduced charges to supermarkets for recovering abandoned trolleys.
Trolleywise says around 1.5m shopping trolleys are abandoned in streets and waterways across the UK every year.
Set up in 2007, it collects abandoned shopping carts for a range of stores including Asda, Marks and Spencer, Sainsbury's and Wilkinson.