Bridgend tenants' anger at Creme Egg 'bedroom tax gift'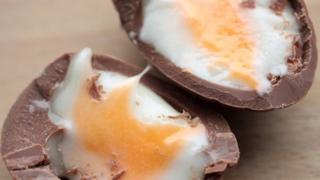 Tenants in Bridgend affected by housing benefits cuts have hit out at a housing association that offered them a Cadbury Creme Egg as thanks for paying their rent.
Valleys to Coast (V2C) told residents it was because the introduction of the "bedroom tax" had been "a challenging time".
Tenants have branded the move an "insult".
V2C said the offer was a way to remind tenants that staff were there to help.
The letter signed by V2C's head of neighbourhoods Nigel Draper said: "The bedroom tax was introduced just over a year ago and Valleys to Coast Housing would like to thank you for your efforts to pay this shortfall.
"V2C understands that this has been a challenging time and wants to recognise your payment efforts."
It goes on to say residents can collect a free Creme Egg as a "small thank you" if they call into its office during the month of April.
The housing benefit cut, introduced last year, is what the government calls the removal of the "spare room subsidy" but critics call the "bedroom tax".
Tenant Kay Harris, of Bettws, said the letter from the housing association was insulting and degrading.
"It's disgusting. I just laughed, I thought they were taking the Mick," she said.
"They should be helping people pay their rent not trying to buy people with chocolate."
Tenant support
Alan Short, a caseworker for Cardiff and South Wales Against the Bedroom Tax, which covers Bridgend, branded the move "a joke".
"I think it's appalling that they can put out this sort of letter," he said.
"It's a joke. How seriously are they taking the issue of the bedroom tax?"
A spokesman for V2C said the offer had been supported by tenants on its welfare reform working group.
"We always need to engage and keep the [bedroom tax] debate alive and the invitation to attend one of our regular walk-in sessions in Bridgend and pick up a free Creme Egg over Easter was a way of reminding tenants that even during the school holidays staff are available to help with financial advice," the spokesman added.
"As a housing association our relationships within the community go much further than just tenant and landlord."