Rebuild Welsh manufacturing, says Sir Howard Stringer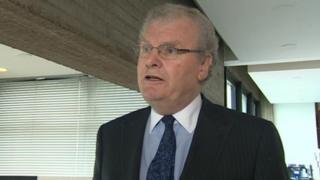 The former boss of Japanese electronics giant Sony says Welsh firms could win manufacturing back from Asia.
Sir Howard Stringer said they could get products to market quicker than it takes to ship goods made in China.
He also said big business should adopt the traits of smaller firms which have been "fighting for their lives" lately.
And he said that same entrepreneurial spirit at Sony's plant at Pencoed near Bridgend helped it win a contract over China to build Raspberry Pi computers.
Welshman Sir Howard said: "They have recognised the way to bring manufacturing back to Wales is to find a way to make it worthwhile for the Japanese company and one of the ways is the distance to the customer.
"It is a very long way from China. Everything moves so fast. The six or 10 weeks it takes to get the ship to the UK, your market could have changed.
"If you do your manufacturing in Wales at reasonable cost you have tremendous advantage on your competition in getting to the market so quickly.
"In Pencoed they have understood that and they are doing what small companies do that big companies don't.
'Accomplished'
"They are fighting for their lives. They have seen the abyss. They've looked down and... said 'there is only one way to win in this business and that's to do things differently'.
"I'm so proud of what they have accomplished."
Sony's Pencoed site already has a worldwide reputation for the broadcast and professional video cameras made at the site and in 2012 it started making the mini Raspberry Pi computers.
Last week, a chartered surveyor said industrial firms are keen to set up in Wales but are being put off by a lack of suitable sites.
In April, the Welsh government bought Pencoed Technology Park - home to Sony - for £12.3m to add to the 60 acres of development land it already owns between the park and the M4.
It says it wants to encourage more high quality companies to set up in the area.
In north Wales, it also bought the former Hotpoint washing machine complex at Bodelwyddan, Denbighshire.
Sir Howard, now a non-executive director of the BBC as well as other businesses, retired as the boss of Sony last year after being its president and chief executive.
He spoke to BBC Wales' Business Correspondent Brian Meechan for BBC Radio Wales's Wales at Work programme.