Cardiff City Stadium graffiti opposes owner Vincent Tan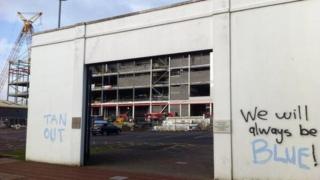 Graffiti has been daubed at the entrance to the Cardiff City football stadium in opposition to the club's chairman Vincent Tan.
The graffiti on the Ninian Park gates in Sloper Road said "Tan out" and "We will always be blue" which refers to the club's controversial rebrand.
There have been a number of demonstrations against a change in the team's shirt colours from blue to red.
Cardiff City Supporters' Trust said the graffiti was "totally unacceptable".
Supporters' trust chair Tim Hartley said: "Emotions about the rebranding from red to blue are running high but there is absolutely no excuse for the daubing of the Ninian Park gates. It is totally unacceptable.
'Peaceful demonstrations'
"The way forward is to present a reasoned case for a return to blue along with peaceful demonstrations. We don't want to see that campaign undermined by mindless vandalism.
"The peaceful demonstrations on Sunday will once again illustrate to Vincent Tan the strength of feeling over his decision to change our historic home playing colours.
"We are again seeking a meeting with Mr Tan with the aim of convincing him of the overwhelming case for a return to blue. We believe a return to blue would also be in the club's commercial interests with a big increase in shirt sales."
Malaysian billionaire Tan has previously ruled out going back on his decision.
The Bluebirds were relegated from the Premier League following a 3-0 defeat at Newcastle United on 3 May.