Designer handbag thief Jayne Rand to pay back £117,000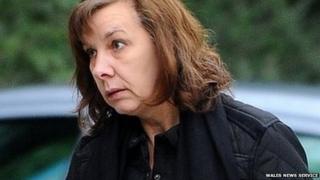 A woman jailed for stealing 905 designer handbags has been ordered to pay back the £117,000 she made selling them on eBay.
Jayne Rand, 48, from Swindon, carried out a nationwide "campaign of shoplifting" and took handbags and purses worth up to £135,000.
She was eventually caught at a shopping centre in Cwmbran, Torfaen.
Cardiff Crown Court heard she must pay the money back within six months or face further jail time.
Police said they believe Rand could be Britain's biggest designer-label handbag thief - stealing almost one a day over three years.
She sold the bags on online auction site eBay from her home in Wiltshire to customers all over Britain, the court was told.
But her offending was brought to an end by two security workers at a House of Fraser outlet in Cwmbran.
Rand stole bags with a total retail value of £135,000 and the loss to the shops she took from was more than £80,000, the court was told.
She was jailed for 18 months in October after she admitted stealing 905 handbags and four purses between December 2009 and December 2012.
She also admitted converting criminal assets from 838 handbags.
The court heard Rand started stealing after the property business she ran with her husband got into financial difficulty.
Her family had no idea she was out shoplifting designer handbags.