Cardiff driver escapes tree falling on car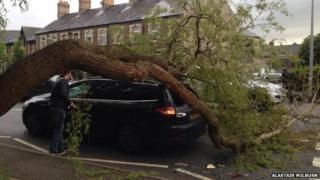 A driver has had a lucky escape after a large tree branch fell on his car as he was driving on a main road in Cardiff.
Pictures posted on Twitter by passers-by show the branch resting on the estate car in Merthyr Road, Whitchurch.
The driver, who was the only person in the car, was uninjured after the incident at about 19:00 BST on Thursday.
South Wales Police said the road was blocked for a time until highways officials were able to remove the tree.