Birthday honours: Foster carers 'ecstatic' over MBEs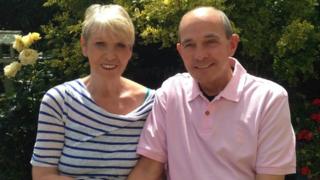 A couple who have fostered more than 100 children in 45 years say they are "ecstatic" to be honoured with MBEs.
Stuart and Sandra Peacock from Barry, Vale of Glamorgan, first became foster carers in their early twenties, taking in children from aged two to 16.
"We have had a house full of children since 1969," said Mrs Peacock.
She added that the award in the Queen's Birthday Honours list was "extra special" as they had been nominated by one of the children they had fostered.
Extended family
Retired builder Mr Peacock, 65, said: "Our first three placements were siblings aged eight, nine and 11 - we were only in our early twenties, evidently impossible to be their parents by age.
"Life was at a much slower pace in those days - there were no drug problems, and fostering was mainly just respite for the mother.
"It's not always been easy but we've enjoyed it - the children and now their children are part of our extended family."
Mrs Peacock, 66, added: "It's just something we always wanted to do.
"Nearly every one has come to us from a difficult background - they've all had their demons to deal with.
"At the end of the day it's been very rewarding - we enjoy the children and they enjoy us."