Newport shooting: Accused meant 'to shoot only himself'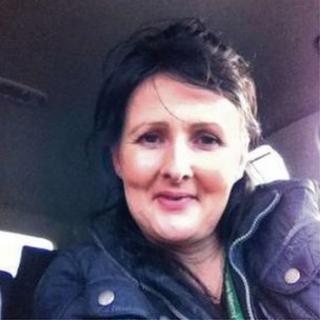 A man who shot his wife dead in a street meant to kill only himself, Newport Crown court has heard.
Caroline Parry was shot in the back at close range near her home last August. Christopher Parry, 49, was found critically wounded nearby.
Consultant psychiatrist Dr Stephen Hunter said Mr Parry later told him he wanted to make his wife "realise the torment she had put him through".
Mr Parry, from Cwmbran, denies murder but has admitted manslaughter.
Caroline Parry was found by officers on Seabreeze Avenue in Newport in August 2013. She had been shot in the back twice with a shotgun.
Her estranged husband was found close by with a gunshot wound to his head.
The court has heard how Mr Parry had been "controlling" during the couple's marriage.
The prosecution's case is that he could not accept his wife had left him and that he "was planning to kill her - and kill her he did".
At the start of Mr Parry's defence on Tuesday, the court heard from Dr Hunter, who interviewed the defendant after the shooting.
Dr Hunter told the court Mr Parry had described having "terrible, terrible feelings" and that two days before "the event" had felt suicidal.
Cartridges
Dr Hunter recounted how the defendant had told him "that he wished he was dead the majority of the time".
The defendant said his "intention was to kill himself in front of his wife to make her realise the torment she had put him through," Dr Hunter said.
The jury were told - in evidence accepted by both the prosecution and defence - that Mr Parry had driven to Seabreeze Avenue with a shotgun.
A shotgun licence was found in his car after the shooting.
Three spent cartridges were also found there.
The trial is continuing.