Shooter Christopher Parry's 10-year depression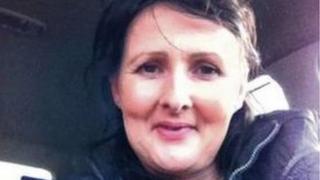 A man who shot his wife dead in the street has a history of mental illness and depression dating back over 10 years, a court has heard.
Consultant psychiatrist Dr Emma Clark said Christopher Parry's symptoms first emerged after a road accident, and returned after his wife left.
Caroline Parry was shot in the back at close range near her home in Newport last August.
Mr Parry, 49, of Cwmbran, denies murder but admits manslaughter.
Newport Crown Court heard Mr Parry suffered from a substantive depressive illness, including panic, anxiety and post traumatic stress disorder after a road accident, as well as poor sleep patterns and stress at work.
In April 2013, symptoms of depression were noted by his GP after Parry's wife left him.
Months later in August 2013, he shot Mrs Parry twice in the back with a shotgun on Seabreeze Avenue, Lliswerry, before turning the gun on himself.
After being discharged from hospital in October 2013 he was sectioned under the Mental Health Act.
'Depressive illness'
The jury heard he is considered a high risk of taking his own life and spends a lot of time thinking about what happened.
He told Dr Clark he felt he could no longer go on, and on the day of the shooting he wanted to show his wife how much he loved her by killing himself in front of her.
"It's the biggest thing you can do to show them you love them," he told her.
"I didn't plan this, I wish I wasn't ill - if I could turn back..." he added.
Dr Clark told the court she believed Mr Parry was suffering from a severe depressive illness and his actions on the day of the shooting were affected by his state of mind.
But a second consultant psychiatrist, Dr Philip Joseph, who examined Mr Parry before the start of the trial, said there was nothing in GP notes to suggest severe depression.
He told the court that if Mr Parry had decided to kill his wife, his depressive illness would not have been a contributory factor.
"Killing her would have come from anger, vengeance, and a desire to cause her serious harm, depression is not associated with violence," he said.
But if he had not decided to kill her before he got there, Dr Joseph said the depressive illness may have played a part.
The trial continues.