Three rescued after missing Sully Island lights warning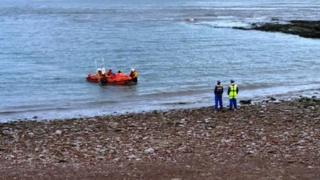 Three people have been rescued from Sully Island after failing to see a newly-installed traffic light system advising when it it is safe to cross.
Penarth RNLI inshore lifeboat was called after the three became cut-off by the tide at the Vale of Glamorgan tourist spot on Thursday evening.
The alarm was raised at around 20:30 BST by someone camping on island.
It is not the first time the lifeboat crew has been called out since the RNLI introduced a trial system last month.
On Sunday 29 June, the RNLI lifeboat was sent to help after two people were seen crossing the causeway as it was flooding.
One made it across to the island while the other turned back.
Both reported not seeing the traffic lights housed in the kiosk at the water's edge.
The next day, the lifeboat was called out again when when two people became cut-off by the tide after approaching the causeway from along the beach and not seeing the traffic lights.
The RNLI is trialling the set of traffic lights - warning visitors when they are likely to be cut off if they try to cross the causeway - in the hope it will cut the number of call-outs to the scene.
Over the years hundreds of people have been left stranded on the island when the tide comes in.
The island can be reached by foot at low tide via a rocky causeway.