Capt Mark Gold saved woman 'being drowned' in Taff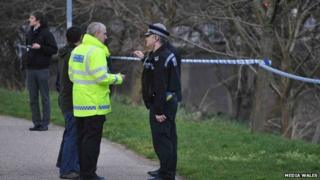 A soldier ran into a river to save a woman who was being drowned by two men, Cardiff Crown Court has been told.
Capt Mark Gold, 43, was with his family by the River Taff when he saw Leanne Ware, 31, in the water.
He fought off her attackers, pulled her blue, lifeless body from the river and, together with a passing GP, used CPR to save her life.
Miss Ware's partner Martin Edwards, 43, of Cardiff, and friend Gary Pincott, 55, of Barry, deny attempted murder.
Capt Gold - in the Royal Army Medical Corps for 20 years - was walking with his wife and children on 16 February.
The court was told how he saw two men rolling her body into the river and holding her head under the water.
'Attacking her'
John Philpotts, prosecuting, explained how Capt Gold was walking along the river bridge when he saw Leanne Ware lying on the river bank where both Edwards and Pincott were attacking her. He turned away to move his family and dialled 999.
"When he returned he saw both men pushing Miss Ware into the river - Edwards rolled her with his feet and Pincott pushed her with his hands," he told the jury.
"It appeared Miss Ware was not fully conscious as she rolled sideways into the River Taff and immediately went under the water and out of sight."
Capt Gold ran down and waded into the icy water to reach Miss Ware when he was hit in the face by Mr Edwards, the court heard.
'Held face in water'
The jury heard Miss Ware was so blue and unresponsive that Capt Gold and GP Hannah Hetherington, who was jogging past at the time, believed she was dead.
Mr Philpotts said: "Captain Gold reached her at about the same time as Edwards, who appeared to be holding her face under the water."
Capt Gold and Dr Hetherington began CPR until police and paramedics arrived.
The court was told Mr Edwards told an officer: "Why did I pull her back in if I was trying to murder her?"
And in a police interview, Mr Pincott told a female officer: "Oh love, come on, I was on the bridge when Martin and Leanne were under there arguing.
"I have done absolutely nothing."
Mr Edwards also denies assaulting Capt Gold.
The trial continues.