Crews tackle fire at Brick Fabrications factory in Pontypool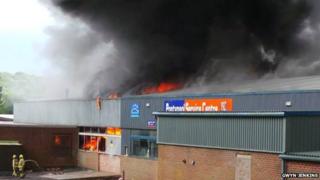 Around 40 firefighters have spent much of the day tackling a blaze at a factory in Pontypool.
Fire crews were called to Brick Fabrications on the North Pontypool Industrial Park, Pontnewynydd, at 13:27 BST.
Crews from 10 stations across the region were called to the site.
The fire was extinguished and firefighters left the scene shortly before 19:00 BST
Sharon Jones, who works for a nearby travel company said: "I just looked out the window at about ten past one, and there were men running down the road and all the smoke coming out of the building. All you could see was the plume of big black smoke."
It is thought the Brick Fabrications unit suffered extensive damage but the cause of the fire is not yet known.
Fire crews will return to the scene on Tuesday evening to check for any signs of further burning.