Alfie Sullock murder case: Newport Crown Court jury out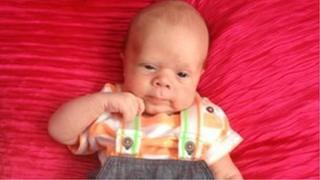 A jury has begun considering its verdict in the case of a man accused of murdering a six-week-old boy who suffered brain damage.
The injuries to Alfie Sullock were said to have happened in the two hours Michael Pearce was babysitting on 16 August last year in Cardiff.
Mr Pearce, 32, of Nelson, Caerphilly county, beat the baby with a shoe and a plastic bottle, Newport Crown Court has heard.
He denies murder and manslaughter.
The defendant has told the court he did not do anything to hurt the baby.
He has told jurors he left the room Alfie was in for "no more than 30 seconds" and when he came back, he "looked over at Alfie and couldn't see his chest going up and down and presumed he wasn't breathing".
He said he had administered mouth-to-mouth resuscitation.
Two paramedics arrived four minutes after Mr Pearce called 999, and took Alfie to hospital.
Mr Pearce denied slapping or shaking the baby, saying: "I didn't pick up anything and didn't do anything."
The court has previously heard that the defendant and Alfie's mother, Donna Sullock, became friends when she was six months pregnant and she had no issues leaving her baby with him when she went out for the first time since giving birth.
It is claimed the baby was beaten with a shoe or sandal and the bottom of a plastic bottle.
The jury in the case was sent out to consider a verdict at lunchtime on Friday, and later sent home for the weekend.
The will return to court on Monday morning, when deliberations on the case will continue.