Alfie Sullock death: Michael Pearce jailed for nine years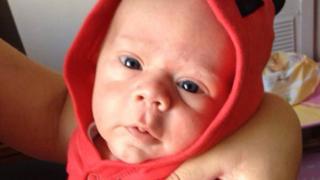 A man who killed his girlfriend's six-week-old baby by battering him with a shoe and plastic bottle has been jailed for nine years.
Michael Pearce, 33, was looking after Alfie Sullock, from Cardiff, for two hours while the baby's mother had her first night out following his birth.
Magistrate's son Pearce, of Nelson, Caerphilly county, was cleared of murder but convicted of manslaughter.
The judge at Newport Crown Court asked if jealousy had played a part.
Father-of-one Pearce denied murder and manslaughter, but was convicted of the lesser charge after nearly 36 hours of deliberation.
Judge Mr Justice Baker told Pearce: "Alfie died as a result of you having inflicted upon him multiple blunt force injuries.
"It may well be that due to your denials we may never know whether you were motivated by jealousy as a result of Donna's refusal to have your child earlier that evening."
He added that it was "implicit" that Pearce caused Alfie's head injuries of "up to 10 blows with an object that may have included a baseball boot".
The public gallery was full for the sentencing hearing on Wednesday in which Pearce's defence team said there was "a momentary loss of control on the part of a man of previous impeccable character".
But the judge said: "This was not a momentary loss of control by a sleep deprived parent. Alfie was only in your care for a short time."
Following the hearing, Alfie's grandfather Clive Sullock said: "There is a lot of disappointment. I really don't feel that justice has been done, but it's not an acquittal it's a result.
"On behalf of the family, we're devastated but... we'll look forward to a happier future and let the baby rest in peace."
Mother Donna Sullock had left Alfie, born on 6 July 2013, with Pearce, who she was in a relationship with at the time, to enjoy her first night out since giving birth.
The pair had become friends while she was six months pregnant, and later became a couple.
The court heard Pearce began to display "obsessive behaviour" towards Ms Sullock and asked her to give him a child weeks into their relationship.
On 16 August, she travelled from her home to Pearce's house in Nelson, Caerphilly county. Pearce suggested she go out with his friend's girlfriend for a "girly night out".
That night Pearce had drunk five pints of beer - four of them in 45 minutes.
He then returned home and looked after Alfie while Ms Sullock got ready.
She told the court her baby had been fine when she left the house.
Later, Pearce dialled 999 and Alfie was transferred to the University Hospital of Wales, Cardiff, where four days later his life support was withdrawn.
Alfie died of blunt trauma injury and extensive bleeding into the brain.
Pearce was cleared of murder but convicted of manslaughter on Tuesday by a 10-2 jury majority.
Ms Sullock said she was "disappointed" with the verdict.
As she wept on the steps of the court after the verdict, the 29-year-old said on Tuesday: "Whatever sentence he will get, it will never be long enough for taking Alfie's life away.
"We have been through a year of absolute hell."
Pearce could be released from prison on licence after serving half of his sentence.