Head for heights needed in Millennium Stadium clean-up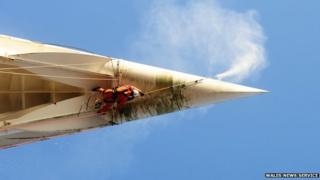 Cleaners with a head for heights have been sprucing up Cardiff's landmark Millennium Stadium.
Dangling from ropes 300ft (91.4m) up, the fearless washers were strapped into harnesses to jet clean the four massive white corner masts.
The gravity-defying cleaners dressed in hard hats were seen suspended upside down blasting away green scum.
Mark Doyle, of Summit Rope Access, said they were experienced high-rope workers with a definite head for heights.
It takes three men three weeks to clean each mast.
"There is about 2km (1.2 miles) of ropes and rigging involved in cleaning each mast - it takes a lot of equipment and gear," said Mr Doyle.
"The jet washer is down on the ground and the tubing reaches all the way up to the guts up on the masts.
"The guys up there have a great deal of expertise but I wouldn't say it is a straightforward job - you need a good head for heights."