Witness appeal after man dies in collision outside Pontypridd pub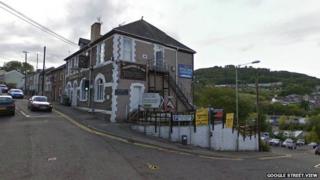 Police are appealing for witnesses after a man who was standing in the road outside a Pontypridd pub was hit by a car.
The man died in hospital in Cardiff after the incident involving a blue Audi A3 car outside the Morning Star at 05.55 BST on Thursday.
Officers said they want to hear from anyone who may have seen him standing in the road before the collision.
They also said they want to speak to people in a small car.
The car was travelling on Llantrisant Road heading towards Beddau at the time but police said its occupants could have witnessed what happened.