Risca 'bedlam' pipe bomb maker jailed for three years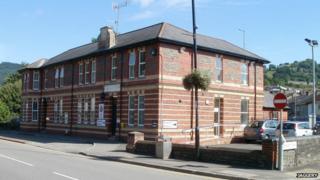 A man who caused "bedlam" in Risca, Caerphilly, when he handed a home-made pipe bomb in at a police station has been jailed for three years.
Mark Wise, 51, of Sebastopol, near Pontypool, Torfaen, made the pipe bomb and a bag of explosives for his own "personal interest".
He pleaded guilty at Cardiff Crown Court to making explosives.
A 100m exclusion zone was put in place and a small controlled explosion carried out, the court heard.
No one was hurt in the incident in March 2014 but the town suffered major traffic disruption after the alert.
Gwent Police said it hoped Wise's conviction "will serve as a warning to others".
A spokeswoman said: "We take these incidents, which are potentially very dangerous, very seriously and first and foremost will attempt to minimise any risk to the public.
"The incident caused disruption to businesses and residents while the cordon was in place and we are grateful for their co-operation."