Motorist punched boy who threw sweet in Southerndown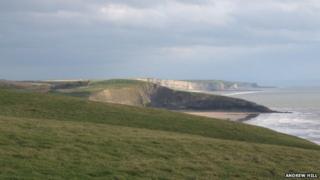 A man stopped his car and punched an 11-year-old boy twice in the face after a sweet was thrown at his vehicle in the Vale of Glamorgan, police say.
Officers are appealing for information after the boy was left with a black eye, a bloody nose and a swollen lip after the attack in Southerndown.
The boy had been with friends waving at passing vehicles and throwing small chocolate sweets on to the road.
The man stopped after one of the chocolates hit his car.
Police said he then reversed his vehicle along Southerndown Road to where the four boys, aged between nine and 11, were sitting on a wall at the cricket club in the coastal village.
Pulled and punched
On seeing the car reverse, the boys jumped off the wall and back into the grounds of the cricket club, where their parents were.
But the 11-year-old was pulled off the wall by the man, who then punched the schoolboy twice to the face.
The motorist got back into his car and drove off in the direction of the Three Golden Cups pub.
The man is described as being white, aged between 30 and 40, and wearing a white top and darker coloured shorts.
He was believed to have been driving a white Nissan Elgrand.
Police are appealing to the driver to come forward.
Anyone with information, or who recognises the Nissan Elgrand, is asked to contact South Wales Police on 101.