Alfie Sullock death: Michael Pearce nine-year term stands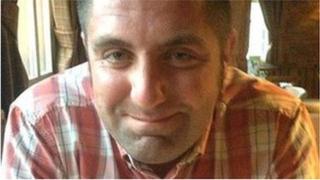 A nine-year jail sentence given to a man who killed his girlfriend's six-week-old baby was not "unduly lenient", appeal judges have ruled.
Michael Pearce, 33, from Nelson, Caerphilly, was jailed in July for the manslaughter of Alfie Sullock.
The sentence was referred to the Court of Appeal after the Attorney General's Office received about 10 complaints.
Pearce was cleared of murder but convicted of manslaughter by a jury at Newport Crown Court.
Alfie was battered with a shoe and a plastic bottle.
The trial heard Alfie's mother, Donna Sullock from Cardiff, had left him with Pearce to enjoy her first night out since giving birth last year.
The pair had become friends while she was six months pregnant, and later became a couple.
Pearce claimed he did not hurt Alfie and gave him mouth-to-mouth resuscitation.
He had denied murder and manslaughter but was convicted of the lesser charge after a jury deliberated for nearly 36 hours.
On Wednesday, Sir Brian Leveson, Mrs Justice Elisabeth Laing and Mr Justice William Davis, sitting at the Court of Appeal in London, upheld the sentence.