Chepstow's Reid Lifting unveils £3.8m expansion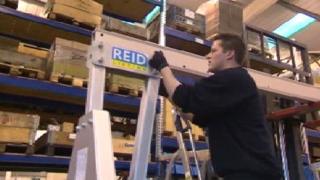 A Monmouthshire engineering firm that lists The Vatican and London Underground among its customers is expanding into a new factory and hoping to almost double its workforce.
Reid Lifting, which makes specialist portable gantries and cranes, has seen orders rise 30% this year.
Its diverse list of clients also boasts Rolls-Royce and the British Museum.
The Chepstow firm said the £3.8m expansion will safeguard 21 jobs and create 17 more in the next few years.
'Vital' investment
It has supplied The Vatican and museums with equipment to allow staff to move valuable statues and works of art in and out of display areas safely.
The Welsh government is providing £680,000 business finance towards the project.
"This expansion is vitally important for our future growth as we currently do not have the capacity to meet the growing demand for our products," said managing director Nick Battersby.
Reid, which was founded in 1996, has won three Queen's Awards for Enterprise, including two last year for international trade and innovation.