Cardiff City fan who suffered heart attack thanks staff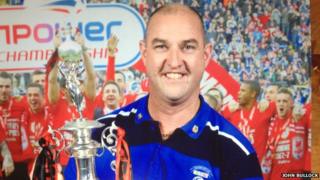 A Cardiff City fan who suffered a heart attack while watching the Bluebirds at West Bromwich Albion is going back to thank the staff who saved his life.
John Bullock, 56, collapsed while celebrating an equaliser from City's Steve Caulker's that made it 2-2 at the Hawthorns in March.
Thankfully, paramedics were quickly on the scene to treat him before he was taken to hospital.
Now the Bluebirds fan is heading back to the Midlands to say thank you.
The father-of-two recalled the moment the drama unfolded and the twist of fate that saved his life.
"We stopped for a couple of beers and got there at about 2:30pm," he said.
Stroke of luck
"We were supposed to be at the back stand but couldn't get up there.
"A steward said we could sit down the front so we sat there."
The taxi driver said it was the stroke of luck that saved his life.
"I don't see how they (paramedics) would have got up to the back," he said.
It was at about 16:25 BST, just after Caulker's equaliser, when he suffered the heart attack.
"I felt like somebody had punched me in the chest," he said.
Ground staff quickly took Mr Bullock to the dressing room and he was in hospital within half an hour.
He was later informed one of his arteries had collapsed.
Now fully on the mend, Mr Bullock could not be happier to be heading back to the Midlands.
"It's not every day you get to thank those who saved your life," he said.