Cyber security firm Alert Logic opens in Cardiff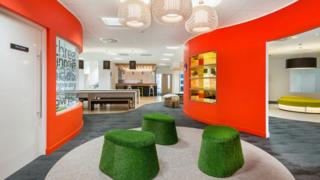 A US cyber security company is officially opening its European HQ in Cardiff, creating almost 130 jobs.
Houston-based Alert Logic offers security for the cloud, with data being stored at a centre in Newport.
The firm wants to expand into Europe, the Middle East and Africa, and hopes to take on up to 300 staff within three years.
It is one of the first businesses to move into the Central Cardiff Enterprise Zone.
The company received £1.15m finance from the Welsh government but said it chose Cardiff for its transport links and local universities researching cyber security.
It has already launched its Newport data centre, but most staff will be based in Cardiff.
David Howorth, Alert Logic's vice president Europe, Middle East and Africa, said they had a growing customer base wanting protection against recent cyber-attacks.
He said the company offered a round-the-clock security service to "continuously monitor and protect against these and future threats."
As for more general advice, he added: "It's about making sure passwords are encrypted so difficult to access and that people don't leave their computers open when unattended."