Gareth Wyn Jones murders David Lewis days after prison exit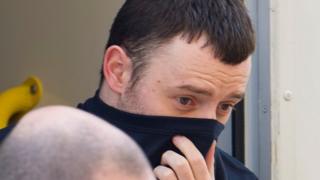 A heroin addict has been found guilty of murdering a man under a bridge just five days after coming out of jail.
Gareth Wyn Jones hit "vulnerable" David Alun Lewis 100 times in the attack for his bank card pin.
Musician Mr Lewis suffered 80 injuries before being strangled and left in the River Taff, Cardiff Crown Court heard.
Jones, 28, had only just been released from half of a six-year sentence for stabbing his girlfriend in the head with a fork.
After stealing £50 mentally ill Jones used blood-stained money to pay for a drugs binge before attempting to withdraw money with the victim's card.
The court heard Jones, who had fantasised about killing someone before, picked out Mr Lewis as easy prey at a hostel - just 90 minutes before killing the Ystrad Mynach singer-songwriter.
'Vulnerable'
Mr Lewis, who has previously been described as "vulnerable, fairly quiet and a bit of a loner", spent the greater part of his life fighting anxiety, depression and alcohol and stayed in hostels in Cardiff from time to time.
His battered body was found underneath the Taff Embankment Bridge in Cardiff on 19 March.
Mr Coughlin said CCTV showed the defendant walking away afterwards as if "nothing had happened".
Two attempts to withdraw money from Mr Lewis's account were made a few hours later.
Prosecution counsel Vincent Coughlin said: "This was clearly a calculated killing done for gain."
Jones had pleaded guilty to manslaughter, but denied murder on the grounds of diminished responsibility. A jury unanimously found him guilty.
Earlier in the case Mr Coughlin asked the jury: "How did the defendant get the pin number after he had stolen the card? A more sinister explanation - he extracted the number in the course of the killing on the Taff Embankment.
"The deceased received 80 blunt force injuries to the head, 20 to the neck as well as other injuries. These were a sustained series of assaults... not a single a fatal blow. It must have taken some time for all these injuries to be inflicted."
Feigning illness
Following the killing, the court heard Jones had thrown away his bloodstained clothing before feigning illness and was taken to hospital.
Jones, who has been on remand at Liverpool's maximum security psychiatric hospital Ashworth, had claimed he had been hearing voices on the day in question.
However forensic psychiatrist Philip Joseph said that while Jones had severe borderline personality disorder, he was convinced the defendant had never suffered "true auditory hallucinations".
The prosecution said Jones would have been well-placed to make up symptoms "to suit his own ends" because of his prior experience with psychiatrists.
Jurors also heard the details of Jones's traumatic childhood, which one mental health expert described as the worst he had heard in his career.
Jones will be sentenced on Thursday.