Daughter's worry over Caribbean couple missing in yacht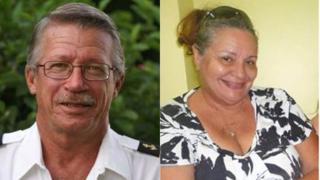 A search has been launched in the Caribbean for a couple who went missing on their yacht on Saturday.
Their daughter Tao Alleyne, from Treherbert, Rhondda Cynon Taf, said Arthur Alleyne and Sharon Went-Alleyne, who is originally from Telford, Shropshire, were sailing from their home in St Lucia to Barbados.
She believes the yacht called Serenity may have lost power in a storm.
The Barbados Coastguard confirmed a search for the yacht was ongoing.
Ms Alleyne spoke to her mother on Friday. The last contact was with the boat was on Saturday.
Ms Alleyne said her father, 63, known as Captain Sam, was an experienced sailor and boat captain who was brought up in the Caribbean.
She and her siblings have appealed for anyone in the islands surrounding Barbados with access to boats, light aircraft or helicopters to join in the search.
'Strange voicemail'
In a Facebook post, Ms Alleyne said although the last contact with the boat was at 2pm local time on Saturday, a "strange voicemail" came in to one of the dock's phones on Sunday.
"In that voicemail, there was the sound of wind blowing and water lapping, and faintly the voices of the two mentioned but their words could not be made out. We don't know if they were in distress at that time," she wrote.
She said search and rescue planes from Martinique and Barbados had flown out, and St Lucia had deployed marine police.
Ms Alleyne added: "The islands have huge sailing communities and having grown up in one, we know they are all huge families.
"That is why we have come together to ask you to be on the lookout. We believe the boat had engine trouble and they've lost power."
The Serenity is described as a 47ft (14m) fibreglass sloop with a white hull, teak deck and a light blue canvas top known as a Bimini.