Princess of Wales Hospital nurses admit neglect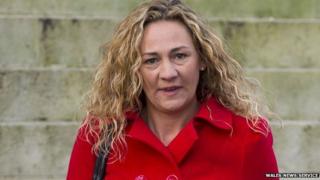 Two nurses have admitted to multiple charges of wilful neglect at the Princess of Wales Hospital in Bridgend.
Lauro Bertulano, 45, and Natalie Jones, 40, pleaded guilty at Cardiff Crown Court to neglecting patients, including 82-year-old Lilian Williams.
Both nurses failed to check patients' blood glucose and falsified notes.
The offences took place on a specialist ward which dealt mostly with stroke patients and general medical patients. Sentence has been adjourned.
Jones, from Bridgend, admitted the wilful neglect of two vulnerable patients "lacking capacity" in September and October 2012, the court heard.
Bertulano, also from Bridgend, neglected six vulnerable patients between May and September 2012.
Two other nurses, Clare Cahill, 41, and Jade Pugh, 29, denied the charges while a fifth nurse is awaiting sentencing after pleading guilty at an earlier hearing.
The offences took place between May 2012 and January 2013.
A total of 15 nurses from Abertawe Bro Morgannwg University Health Board working at the Princess of Wales and Morriston hospitals have been suspended as part of an ongoing internal inquiry into neglect.
A board spokesman said: "Due to the fact that the court cases have not been completed and there is an ongoing police investigation this matter is sub judice and therefore we are unable to comment."