Cardiff charity's call to protect young from radicalisation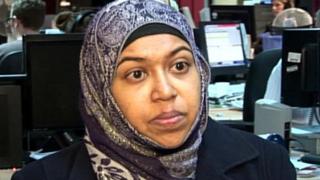 A charity working with Muslim families in Cardiff has said more must be done to stop the radicalisation of youngsters.
The Henna Foundation's Shereen Williams said once people have left Wales to fight, it is too late.
Her comments come as new counter-terrorism laws have been unveiled by Prime Minister David Cameron.
Ms Williams said it is still unclear who is behind radicalising young people.
"When they go, they go with the intention they're going to die as martyrs," she told BBC Radio Wales.
'Vulnerable to radicalisation'
"I think there is a lot more they can do to stop people getting to that point where they want to go. I don't think enough is being done there.
"We need to be doing a lot more in making sure our young people don't get to a point where they're vulnerable to radicalisation."
Mr Cameron's new counter-terrorism laws are aimed at stopping British extremists travelling to Syria and Iraq to fight with Islamic State.
Measures include seizing suspects' passports and preventing those who do join Islamic State fighters from returning to Britain.