Ground rhino horn in smuggled medicine at Cardiff Airport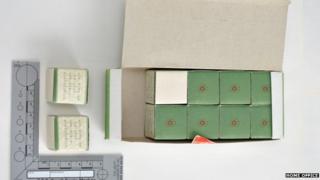 A woman has been fined more than £2,000 for trying to smuggle Chinese medicines which contained ground rhinoceros horn and other banned animal products, the Border Force said.
Sun Liu, 51, was stopped at Cardiff Airport as she arrived on a flight from Beijing via Amsterdam in July 2012.
Three boxes contained ground rhinoceros horn and one box had eight portions of a medicine containing bear bile.
Two other boxes contained the plant extract shenrong weisheng wan.
All of the items are banned under the Convention on International Trade in Endangered Species (CITES).
International enforcement
Liu was arrested at her home address in Pontypridd five months later and charged with three counts connected to trying to smuggle the items into the UK.
She denied the offences but was found guilty on Monday following a trial at Newport Crown Court.
Liu was fined £2,250 in total - £750 for each of the three offences - and has to pay £1,500 costs.
Grant Miller from the Border Force said: "Just because items like this are available in other countries, it doesn't mean they can be brought into the UK.
"Border Force officers take their role in enforcing international agreements like CITES very seriously and anyone tempted to bring endangered animals and plants through our airports should think again."