Protest held at UKIP shop opening in Penarth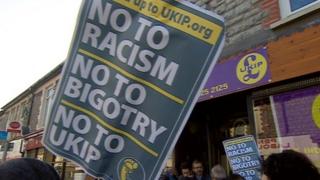 Protesters have gathered at the opening of a new UKIP campaign shop in the Vale of Glamorgan.
More than 20 people rallied outside the store on Glebe Street in Penarth on Saturday afternoon.
UKIP said it opened the shop in preparation for next year's general election.
The party said the Cardiff South and Penarth constituency, which has been held by Labour for decades, was one of its target seats.