Jailed fake baby con nurse sentence changed on appeal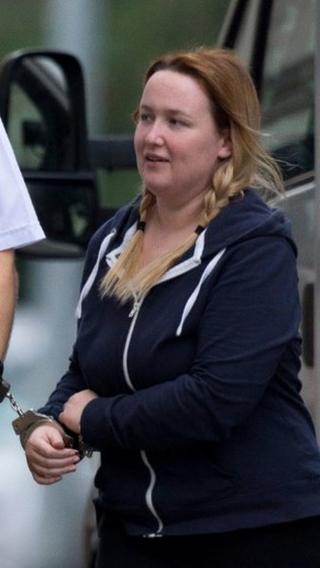 A nurse who borrowed a baby to trick a man into believing the child was the result of their one-night stand has been released early from her jail term.
Charmaine Wilson, 25, forged a birth certificate to dupe Liam Griffiths, 31, into believing the boy was his.
She was jailed for 16 weeks in November by Bridgend magistrates after admitting two counts of fraud.
On Monday she was given a 32-week sentence suspended for two years at Cardiff Crown Court.
Judge David Wyn Morgan also ordered Wilson, of Bridgend, to go on a "thinking skills" programme.
Wilson's trial last month heard she became besotted with Mr Griffiths after their single drunken night together in 2012.
She stalked him on social media to the extent he had to block her and change his telephone number.
But in December 2013 she spotted him while he was visiting his dying grandfather at The Princess of Wales Hospital in Bridgend, where she worked.
Wilson used a friend's baby to confront Mr Griffiths, carrying the toddler in her arms.
When Mr Griffiths demanded proof the child was his, the trial heard, Wilson then used her position as a nurse to forge a birth certificate and fake a DNA test result.
Gifts
Mr Griffiths's family was convinced the child was one of their own and showered the boy - and Wilson - with gifts.
The deception went on for six months until Mr Griffiths posted a picture of himself and his "son" on Facebook.
A relative of the boy recognised him and the child's real mother was tipped off and Wilson was arrested.
The court heard Wilson told police: "It was a lie that snowballed out of control and I did not know how to stop it."
After the trial, Mr Griffiths's mother, Catherine Thomas, 54, said: "I feel we have had a family bereavement having lost a child that I honestly thought was my grandson.
'Bereavement'
"I had bonded with him, fallen in love with and spoilt him rotten."
Judge Wyn Morgan suspended Wilson's longer sentence - for forging the birth certificate and the DNA test result - for two years provided she completes a victim awareness course.
He told her: "The feelings of your victim and his family were needlessly engaged. The discovery of the child's real identity has left them with a feeling of loss similar to bereavement.
"You have an immature and self-centred attitude. You failed to recognise the emotional impact of your forgery - your own hurt feelings took priority in your mind.
"After the totally wicked thing you have done, no-one feels sorry for you."