Traveller funeral for Andrew Colwyn after 22 years in coma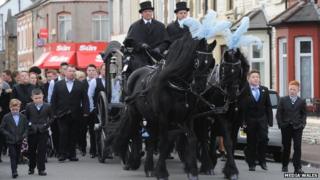 Hundreds of mourners from the Gypsy and traveller community have attended a funeral for a man from Cardiff who died after 22 years in a coma.
Andrew Colwyn - known as 'The Boy' to friends and family - was just 24 when he was hit by a drunk driver in 1992 and fell into a deep coma.
He never recovered and died on 20 November aged 46.
A major road in Cardiff was closed for his funeral, which saw five trucks bearing colourful flower arrangements.
They depicted things that Mr Colwyn had always loved, from boxing gloves and a snooker table to Ford cars and Lurcher greyhounds.
His loved ones held an all-night vigil over his body the night before the funeral at St Alban's Church in Splott on Tuesday.
Mr Colwyn, a former scrap metal worker, was a keen boxer and car lover and was well known in the Welsh traveller community.
The trucks carrying the colourful flower arrangements followed a horse-drawn cortege from Rover Way to the church.
The procession included of hundreds of mourners from across the UK.
His cousin, also named Andrew Colwyn, 20, who was named after 'The Boy', said "everyone had a nice word to say about him".
"People have come over from all across the country to pay tribute to The Boy today, west Wales and all over the place," he told Wales Online.
"The Boy was very popular and well respected back in the day.
"We wanted to give him a proper send-off and that's why all the flowers represent what he loved. He loved boxing, The Boy did, he was an amateur boxer, and he loves his trucks and his dogs too."
Another cousin John Price, 23, said: "He was The Boy to everyone who knew him - and everyone did. Go and knock on any door here in Splott, ask them if they know The Boy, and they'll tell you everything about the terrible accident that happened.
"He was in hospital for seven years after the accident and then his mum and dad looked after him full-time. They idolised him - he was their world.
"But he's with them now and he isn't suffering anymore and that's what matters."
Cardiff council said it closed Rover Way on Tuesday morning because it was expecting "a high volume of traffic" in the area.
The funeral service was followed by a burial at St Andrew's cemetery in Dinas Powys, Vale of Glamorgan.