Manic Street Preachers to play Cardiff Castle gig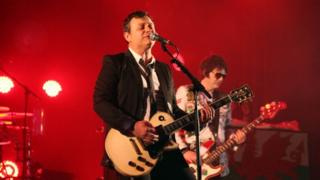 Manic Street Preachers will play Cardiff Castle for the first time - closing their The Holy Bible tour.
The concert will bring the tour celebrating the 20th anniversary of the 1994 album to an end on June 5 next year.
The band, from Blackwood, Caerphilly county, played the first of six original dates in Glasgow on Monday night.
Extra gigs were added following huge demand and tickets go on sale Friday.
Their third album has long been a favourite with fans and was the last work completed with guitarist and lyricist Richey Edwards before he went missing in 1995.