Syed Choudhury, 19, charged with terror offences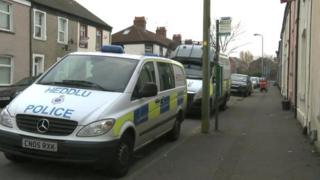 A 19-year-old man from Cardiff has been charged with terror offences, South Wales Police said.
He is one of five held in the city last week under anti-terror laws banning the support of proscribed organisations.
The four other men have been released on bail.
Syed Choudhury, from Grangetown, has also been charged with assisting in the preparation of an act of terrorism. He has been remanded in custody to appear at Westminster Magistrates Court.
Officers from the North East Counter Terrorism Unit and the Wales Extremism and Counter Terrorism Unit (WECTU) executed search warrants in Cardiff and Barry last Thursday.
It is not believed the investigation concerned any immediate threat to public safety.