'Lucky' Geoff Prowle survives nine cardiac arrests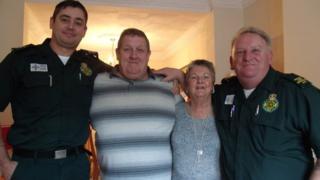 A father from Rhondda Cynon Taf is looking forward to the Christmas he feared he would never see - after surviving nine cardiac arrests.
Geoff Prowle, from Ferndale, suffered a massive heart attack on his allotment in August and had to be resuscitated a further eight times on the way to hospital.
Medic Brendan Powell said he was "amazed" the 61 year old survived.
Four months on, Mr Prowle said he could not thank the paramedics enough.
"I'm such a lucky man," he said.
"When I was shocked by the defibrillator for the ninth time I can remember seeing a blue flash and I opened my eyes only to hear the paramedic saying 'he's back... stay awake Geoff'.
"I don't know how to thank the ambulance crew enough. They were brilliant and I'll be grateful to them for the rest of my days."
Urgent care assistant Mr Powell said: "We set off in the ambulance and we'd set up the defibrillator in case Geoff had a cardiac arrest on the way, but we'd only got to the end of the street when Geoff suffered his first cardiac arrest.
"I'm amazed he's made it through and survived all that he went through."
Mr Prowle's wife of 40 years, Linda, added: "After such a terrible and heartbreaking day, it's incredible that I still have Geoff and that we can look forward to Christmas and new year together."