Edward Hayes lights up eight metre tower for Christmas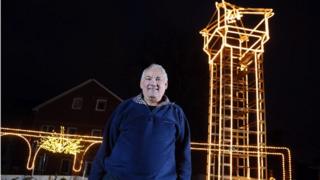 A businessman who built an eight metre (26ft) tall tower in his garden out of old office desks has given it a festive look for Christmas.
Edward Hayes, 71, built the flower-filled tower earlier this year, but has now covered it in 110 metres of lights.
His flowers have been put in the greenhouse for winter.
Mr Hayes said: "I'm just a Christmas kind of guy and I thought 'what better way to celebrate the festive period than to decorate my tower?'"
The former owner of an office supplies company moved his 2,000 geraniums and fuchsias into a greenhouse when the winter set in.
Semi-retired Mr Hayes added: "My wife loves the lights but hated watching me going up and down the tower decorating it. She had to close the curtains every time.
"It will be a big Christmas tower in the winter and a flower tower in the summer."