First female officer's relatives sought by South Wales Police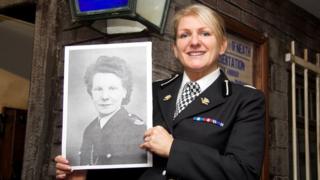 The most senior female officer in South Wales Police is turning super sleuth to trace the relatives of the first female officer to serve on the force.
Ass Ch Con Nikki Holland is launching an appeal to trace the family of former WPC1 Elsie Joan Baldwin.
She hopes to invite the relatives to a special event the force is hosting in Cardiff next year.
She said: "Elsie was an incredible woman. We would love Elsie's relatives to join us in our celebrations."
Born in 1923, Ms Baldwin was brought up in the Gamekeeper's cottage of Lord Romilly of Barry.
The youngest of five daughters, she joined the then Glamorgan Constabulary in 1948 after serving in World War Two.
Referring to herself by her middle name, Joan, she would later change her surname to Lewis after marrying.
'Led the way'
Ass Ch Con Holland said: "She led the way for other women, including myself, to forge a career in the police service."
Nicky Flower, chair of the Association of Women in Policing, added: "If you or your policing family and friends know of Elsie, or of any of her relatives, we'd really like you to get in touch.
"We would also be very interested to hear from anyone who has any old photographs or memorabilia relating to women who served in the Glamorgan Constabulary."
South Wales Police, which was formed after the Glamorgan Constabulary merged with Cardiff, Swansea and Merthyr Tydfil police forces, is hosting the International Association of Women in Policing training conference in Cardiff in August 2015.
Women police officers from around the world will be attending the four-day training event, and will celebrate the association's centenary.