Two youths arrested over attack on donkey in Cwmbran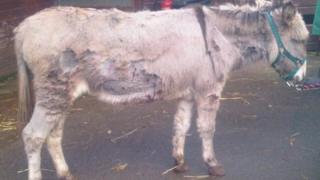 Two youths have been arrested over deliberate injuries to a donkey at a community farm in Torfaen.
The 22-year-old animal, called Cheeky, received 16 puncture wounds to both hind legs, the abdomen and neck at Greenmeadow Community Farm, Cwmbran.
She received treatment from a vet, and is back at the farm where she is continuing to recover.
The youths, two male 17 year olds from Cwmbran, have been bailed pending phone and forensic examinations.
The donkey was injured almost a month ago at the community farm.
Gwent Police have renewed an appeal for anyone with information about the attack on Cheeky to contact them on the non-emergency 101 number.