Tsunami 2004: Cardiff tourist stayed in bed and survived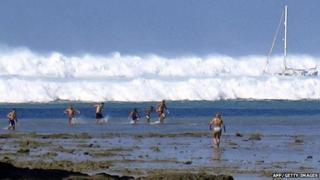 When a Cardiff tourist on holiday in Thailand chose to sleep in on Boxing Day 2004, rather than get a sunbed on the beach, it was a decision which probably saved her life.
Karen Jones was staying in Karon Beach, Phuket, with her partner and son when the devastating tsunami struck.
The water flooded their hotel filling it "like a fast-filling bath".
More than 200,000 people died when an underwater earthquake triggered the killer waves.
"I can still hear the screaming," she told BBC Radio Wales.
"I woke up at nine when the first wave had hit our hotel and we were on the third floor.
"The water came up to our balcony, but didn't come into our room."
Ms Jones said she would normally have been at the beach at that time, but chose to have a lie-in.
"If I had been on that sunbed I would have never made it up the beach in time," she said.
Instead, Ms Jones was woken at 09:00 when the first wave hit.
"We heard the screaming and thought there was some kind of civil unrest," she said.
"We went on the balcony and we just saw all this water. I had no idea what a tsunami was.
"As quickly as we stood there it disappeared, but as it did it dragged everything with it.
"Then it came back, not like a wave, but like a fast-filling bath.
'Taken its toll'
"It was very scary. I remember standing there and watching vans and parts of buildings just floating past the hotel.
"I kept thinking we've got to get higher."
Ms Jones and her family managed to escape down a stairwell and were then helped up the side of a building by a Thai man.
"I have never been so petrified in my life," she said.
A decade on, Ms Jones said the tsunami has "taken its toll".
"I have a fear of wide open water," she said. and has not returned to Thailand since.
"We were really, really lucky. There were people who lost everything."