Garfield the cat reunited with owner after seven lost years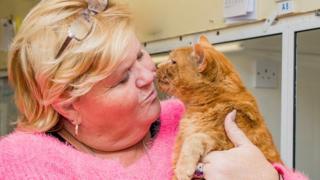 A cat that went missing for seven years is back home in time for the new year thanks to a microchip implant.
Ginger feline Garfield is back with his owner, Julie Calder, after he disappeared while out on the prowl in 2007.
He was returned to the Cats Protection Bridgend Adoption Centre by a woman in the same area who took him in in 2012.
After scanning his chip, and a bit of detective work, the centre was able to reunite Garfield with his owner.
Ms Calder said she was "over the moon" after collecting her long lost pet on Tuesday.
"I never stopped thinking about him and wondering where he was."
Pet microchips contain a unique identification number and are inserted under the animal's skin between their shoulder blades.
The number is linked to a database containing details of the pet, as well as the owner's contact details.
The adoption centre's manager, Sue Dobbs, said: "Microchipping cats, and keeping the contact details up to date, significantly increases the chances of a happy reunion if those cats should ever go missing."