Nos Galan: Rugby star Adam Jones is 'mystery' race runner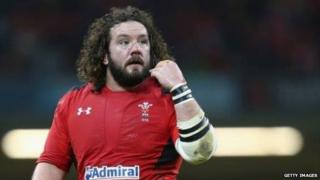 Wales and British Lions rugby star Adam Jones is the mystery runner for the 2014 Nos Galan road race.
More than 1,000 adults and children joined the Cardiff Blues prop forward near Mountain Ash, Rhondda Cynon Taf, which celebrates legendary local runner Guto Nyth Bran.
Jones carried a torch from Guto's graveside at St Gwynno's Church to the town centre four miles (6.5km) away.
The annual New Year's Eve event sees competitors arriving from far and wide.
"Being a part of such a major event as this is brilliant," said Jones.
"The magic of the Nos Galan road races is something special and is held very dear by so many people.
"It has been an immense pleasure for me to be a part of it on New Year's Eve, following in the footsteps of so many mystery runners before me.
"It was good to see the town centre packed out with people of all ages enjoying the wonderful atmosphere that is the Nos Galan road races."
The two 2014 support runners were father and daughter duo Rebecca and Jeremy Horton, of Aberdare Valley Amateur Athletics Club.
NOS GALAN RACE
Founded by Barry-born Bernard Baldwin MBE in 1958
They commemorate the life of legendary Welsh athlete Guto Nyth Bran who died in tragic circumstances in 1737, aged 37
A mystery runner carries a lit torch from Guto Nyth Bran's burial place at St Gwynno's Church, Llanwonno, four miles (6.5km) into the town centre to represent his spirit
According to legend, the Llwyncelyn runner could catch a bird in flight and once ran to Pontypridd and back - about seven miles (11km) - before a kettle boiled